Well, it's St George's Day, so the hearts of all true English people are drawn to… er… doing silly things with SGA action figures.




"Do you realise, Colonel," Rodney said delightedly, "we've been on this planet for two days and not one single creature has tried to stab us, shoot us or eat us." His smile faded, an anxious look taking its place. "Of course, we do still have half a mile to go until we're home and dry."

"Stay positive now," said Sheppard. "There are no Wraith here. The human population are friendly. The only animal life we've found is a tiny species of benevolent hamster. Nothing's going to happen."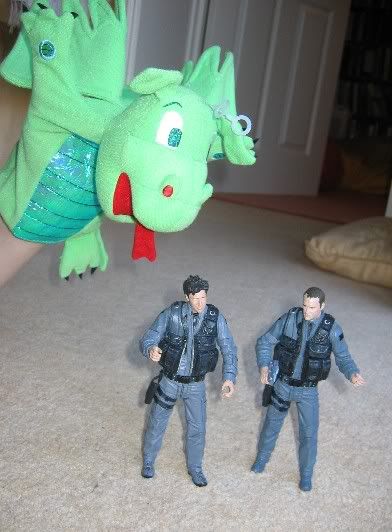 __


"I don't believe it." Rodney sighed in mingled fury, and, well, terror, but, excuse me, dragon here? Real actual dragon? You know, mythical creature that doesn't exist? "This can't be happening. Dragons don't exist."

The creature exhaled warmly.

Rodney looked desperately around the not-dragon-I-refuse-to-call-it-a-dragon's lair. It wasn't very… dragonish, which proved his point. "You could make it a bit more scary," he said. "Just saying." The non-dragon loomed closer. "Or not," Rodney said.

The not-dragon leant even closer.

"You look drunk, you know," Rodney said, then pressed his lips together. "Being quiet," he said in a very tiny voice, mouth barely opening at all. "Don't eat me. Please don't eat me. Although, of course, a brain like mine would be a very tasty morsel. Not. I mean not. Being quiet now. Really."




__

"In comes I, the bold St George," said St George. "I have come to rescue thee, fair maiden."

"Maiden?" squawked Rodney, his face turning red with outrage. "Maiden? Do I look like a maiden?"

"I am brave and bold and resolute," said St George, striking a brave and bold and resolute pose, "and I will slay thee, foul dragon, and rescue this maiden fair and pure who languishes in thy clutches."

"Again with the 'maiden'!" Rodney shouted. "Listen, you brainless lump of muscle and steel, I'm a man, and I've had quite an impressive number of sexual experiences, thank you very much, not to mention having a genius that would…"

(Many hours pass)

"…so why don't you back away, Sir Knight-Who-Says-Ni, and… uh, did you say rescue?"




__

"Looks like you need some help here, McKay," Sheppard drawled, sidling up with feigned nonchalance.

"It's the evil Black Knight!" St George gasped. "Stand and fight, thou varlet."




__

A terrible fight ensued. Sheppard, whose gun had been inexplicably lost*, resorted to stylish high kicks.

* It was dropped in a stone circle on Orkney. It is probably still there. In three thousand years, it will be baffling future archaeologists, and will then be put in a museum, captioned "Probably ritual."




__

Unfortunately, there could only be one ending:




__

"Behold the bold St George!" said St George, striking a heroic pose. "I have vanquished the Black Knight, and the dragon lies dead, killed by indigestion and my heroic sword. Now I will take this fair maiden back to my castle and marry her."

"Maiden?" Rodney tried to say, raising his hand.

"After this daring exploit," said St George, "I bet the countries of Europe will be queueing up to have me as their patron saint."




__

Alternative happy ending for those of delicate dispositions:

"Have at thee!" said the dragon, suddenly deciding to reveal that he was a good dragon.

"Sheppard!" said Rodney, suddenly finding that he was free, after all.

"It's only a flesh wound," gasped Sheppard.

And there was much rejoicing.




__

Out-take no. 1:

"Why does St George get to wear the armour?" said Sheppard. "Why can't I wear the cool costume and wield the cool sword?"

Two minutes passed with many clanks and much groaning.

"On second thoughts…" said Sheppard.




__

Out-take no. 2:

"English people sometimes wear red roses on St George's Day," said Rodney. "Here, let me pin this one on you."

Two minutes passed with many outraged ows and, eventually, much blood and some screaming.

"On second thoughts…" said Rodney, making the call to the infirmary.